west african eʋe rhythms for drumset
….The original rhythms are clearly set out before the player is led through the various selections of cells from each rhythm and their combinations. For the discerning musician, this could be a way of acquiring knowledge of some of the processes and procedures of these traditions and more especially the kind of musical thought that inspires them.
To be able to put together composites of supporting drum rhythms, bell and rattle patterns originally assigned to individual players demands awareness of the nature of the resultants that emerge at various points and the ability to discern what constitutes the essential and non-essential elements in such configurations. I would like therefore, to commend the author, in conclusion, both for the manner in which he has presented his materials and the insights he is sharing, in the process, with other musicians.
The late J. H. Kwabena Nketia,
Emeritus Professor and Director,
International Center for African Music and Dance
This work is unusual for its combination of practical and scholarly features. It is the only step-by-step book of its kind for the drumset, percussion ensemble, and composition (except for the author's previous book/compact disc) in which the subject is West African drumming, language, and culture. Studies for a wide variety of styles derived from four Eʋe dance drumming pieces are presented in satisfying detail. The author is not only a skilled performer but is also an ethnomusicologist with a deep understanding of the cultural milieus from which these musics arise. He provides generous information on what the music means to the native performers aesthetically, recreationally, and spiritually.
The late David P. McAllester,
Emeritus Professor and Co-Founder,
World Music Program, Wesleyan University
royal hartigan has committed himself to living the music of the peoples of Africa and African America. He lives with our brothers and sisters in villages in our homeland, eats our food, dances and drums with heart. Whatever he does in his playing and sharing….. is from his whole being and is the real thing.
The late Kofi Ghanaba ('Son of Ghana')
Odomankoma Kyerema, ('Divine Drummer')
Musical artist who Africanized the drumset instruments
dancin' on the time
Over the years I have reflected on my time and experience spent with royal hartigan. It becomes increasingly clear to me that he is one of the true human beings on planet Earth, albeit in a small and humble package. You might never realize it if you happen to pass royal as he jogs down the street in t-shirt, shorts, and tennis shoes – that there goes one of the most powerful spirits you could ever hope to encounter, musically or otherwise. It has truly been a pleasure to collaborate on this project with him. He. Has been my teacher and mentor in many ways, and I hope to be able to continue learning lessons in music and life for many years to come. I am so thankful our paths crossed and forever grateful for the many gifts received.
Murray Gusseck
Tapspace Publications Co-Founder, marching percussion master artist, composer, arranger, clinician, and drumset giant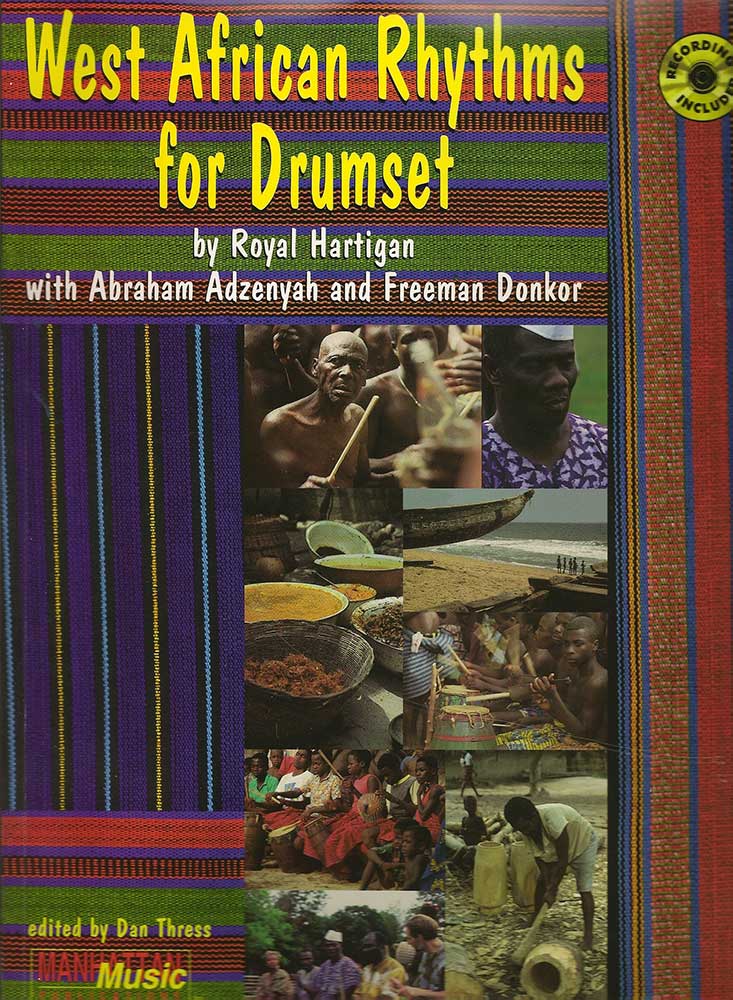 west african rhythms for drumset
This is a significant bridge between African Music and Western forms. Over the years several musicians in the West have experimented with African music and instruments. This is the first comprehensive work that brings the sound, feel, and spirit of West African music to the drumset. I heartily recommend this unique book.
C. K. Ladzekpo
Professor, African Music, Dance, and Culture,
University of California, Berkeley
This book is great and the playing on the CD is terrific! The rhythms remind me of my native Cuba, as well as Brazil, Panama, the Dominican Republic and all the other islands that have come from the source – West Africa. A very impressive work.
Ignacio Berroa
These rhythms will challenge you, inspire you and make you want to dance! Many thanks to Royal Hartigan for presenting this material that is simultaneously funky, swinging, complex and organic in such a clear fashion. Now we can draw upon rhythms that have developed over centuries and play them on drumset. I'm sure you'll be hearing these grooves on records for years to come.
John Riley
This book made me realize where a lot of the beats we play in New Orleans came from – the mother beat. No matter what, we are an extension of tradition. This book gives us the information to extend, apply and grow.
John Vidacovich
blood drum spirit: drum languages of west africa, african america, native america, central java, and south india
abstract
Blood Drum Spirit is a study that focuses on West African and African American music. The research is conducted through the eyes of master drummers in each tradition – Ghanaian artists Freeman Kwadzo Donkor and Abraham Kobena Adzenyah and New Orleans legend Edward Blackwell – and also includes a stylistic history of the drum set in African American music. Three additional sections treat the adaptation of Native American, Javanese, and South Indian drumming and drum languages to the drum set. The research consists of interviews and performances of music by master artists from each world tradition. These sessions are recorded, transcribed and analyzed. Master artists/scholars Paul Hadzima, Mixashawn, and David McAllester give insights on Native American music; Sumarsam and I. M. Harjito focus on Central Javanese drumming; and Tanjore Ranganathan outlines South Indian karnatak music.
The topics arising from the research on West African and African American music include timbral and technical parallels; individual rhythmic correspondence and adaptation; the phenomenon of multiple rhythmic perspectives in ensembles; the role of notation; possible methods for the study, performance, and teaching of these traditions; moral aspects of the music and its use; and a personal sense of shared heritage.
In the section on West African music, hartigan and his colleagues investigate 35 traditional pieces, which include recreational, ritual, harvest, warrior, funeral, court, and ceremonial music, as well as contemporary Highlife drumming.
Javanese drumming patterns are recorded and transcribed, as well as South Indian solkattu (rhythmic syllables) phrases and compositions, and the 175 tala (time cycle) forms of South Indian karnatak (classical) music.
Percussionists will find that over 900 transcriptions of Native American, Javanese, South Indian, West African, and African American patterns are a multitude of time and rhythmic complexes distributed through the drum set in original and challenging ways that require and promise a high level of mastery.
This is a comprehensive body of musical techniques, styles, and theoretical-aesthetic issues, which are assembled for the first time in a systematic and detailed manner. They offer a unique resource to scholars, practicing musicians, and general readers interested in music and culture.